Wow!!!! Ten years it's been an incredible ride through the ups and downs. I joined Accion MfB Micro finance Bank on the 1st of Jan 2008 and I have worked in various departments of the Bank. I started at Oke-Arin Branch as a customer service officer where I worked for two (2) years before re-deployment to commercial department as a loan officer. Initially, I was worried about the re-deployment, however, I worked hard, put in my best and I met the target I was given and maintained a good PAR. On September 1st 2010, I was promoted to a commercial supervisor and moved to Ajah Branch In the course of my journey with Accion MfB, I have grown and risen up the career ladder. I have been promoted to Commercial Supervisor and now I am currently the Branch Manager at our Ajah Branch.
Olayinka Egbayelo, Ag. Branch Manager, Ajah Branch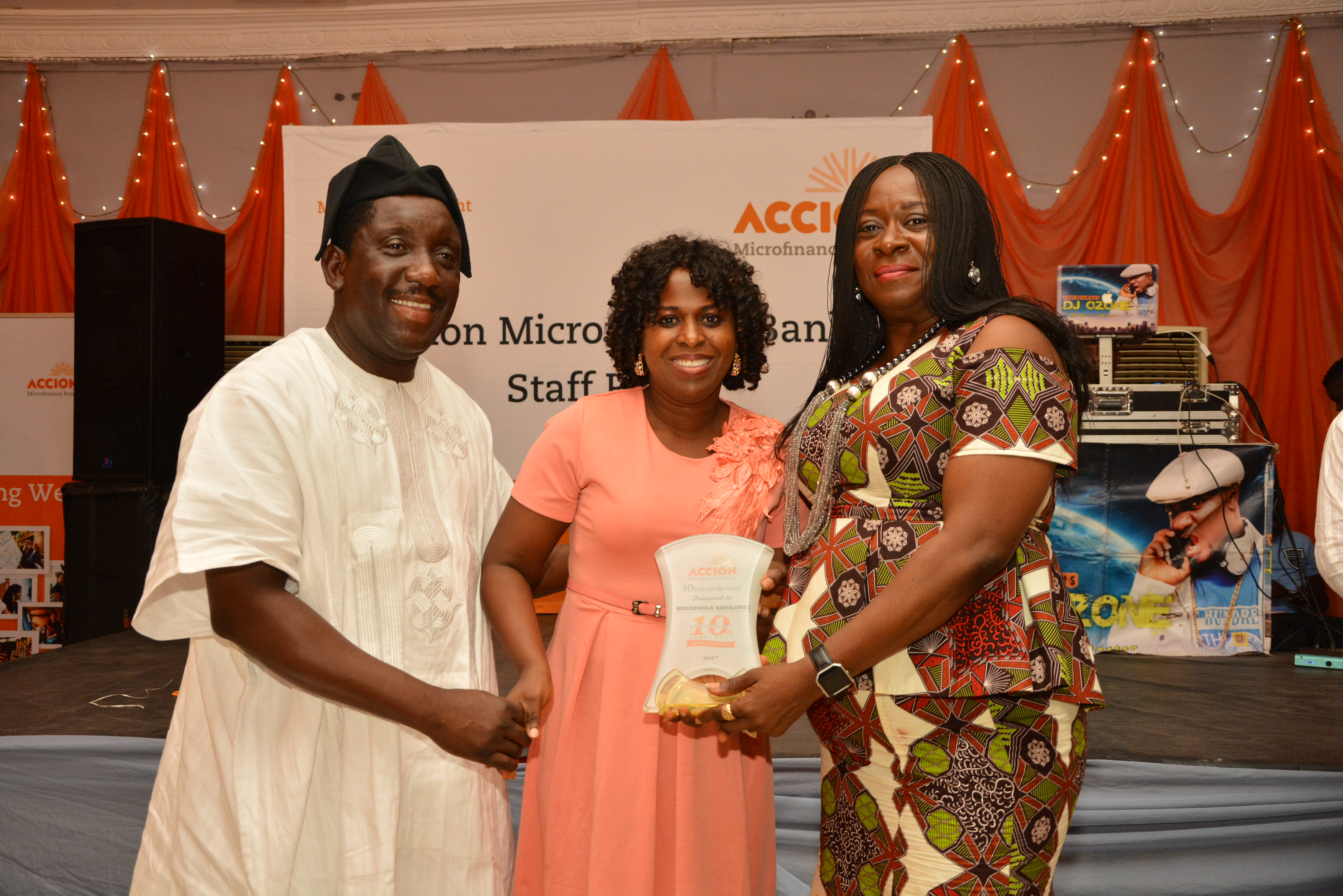 I started as a trainee loan officer and as the bank is growing I am also growing my career. Presently I am managing the Akute branch. Initially, I faced some challenges as a young graduate without any banking experience but with adequate training by the bank I was equipped to succeed. My rise to a Manager in a branch shows that the bank rewards performance and recognition is also given to long service.
Mosunmola Akhilome, Branch Manager - Akute Branch, Ogun State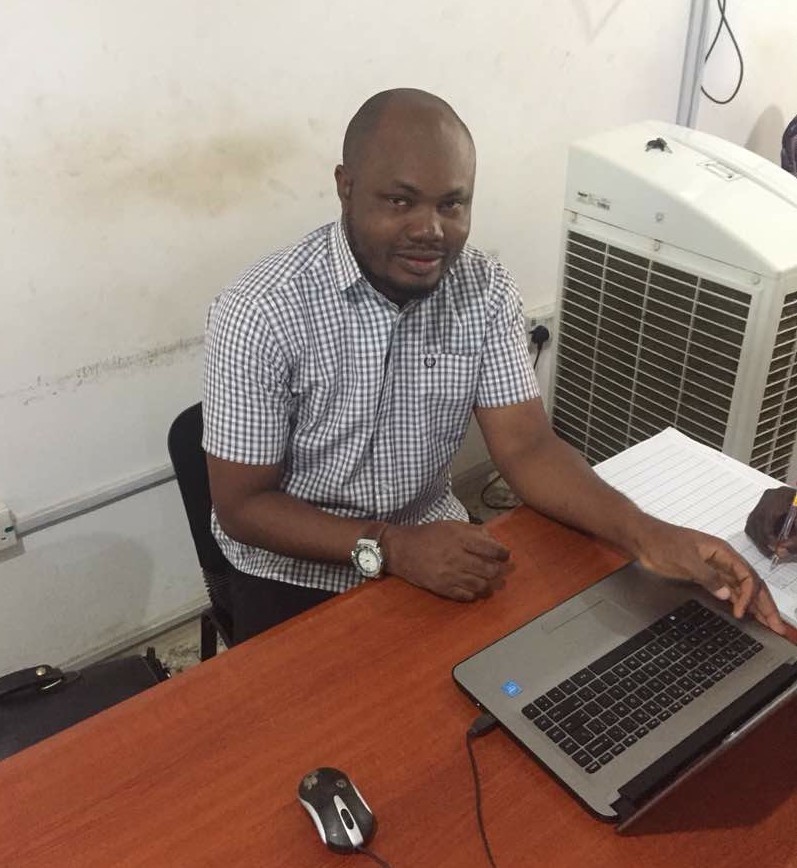 My Brighta Journey with Accion MfB started August 6th 2007 at Oke-Arin branch; the only existing Branch of the bank I started as Home verification Officer (HVO) covering all branches before my re-deployment to Debt Recovery unit of the bank. I was converted to a Loan officer and grew to a commercial supervisor, acting branch manager and now a Branch Manager at the Bodija Branch in Ibadan. Accion MfB has supported me with trainings, workshops and compensation and benefit packages to assist me support my family. I am also humbled to be part of clients? success stories. Accion MfB has also supported their dreams and businesses.
Long live ACCION MICROFINANCE BANK
Adeniji Sunday Adewale , Branch Manager - Bodija Branch Ibadan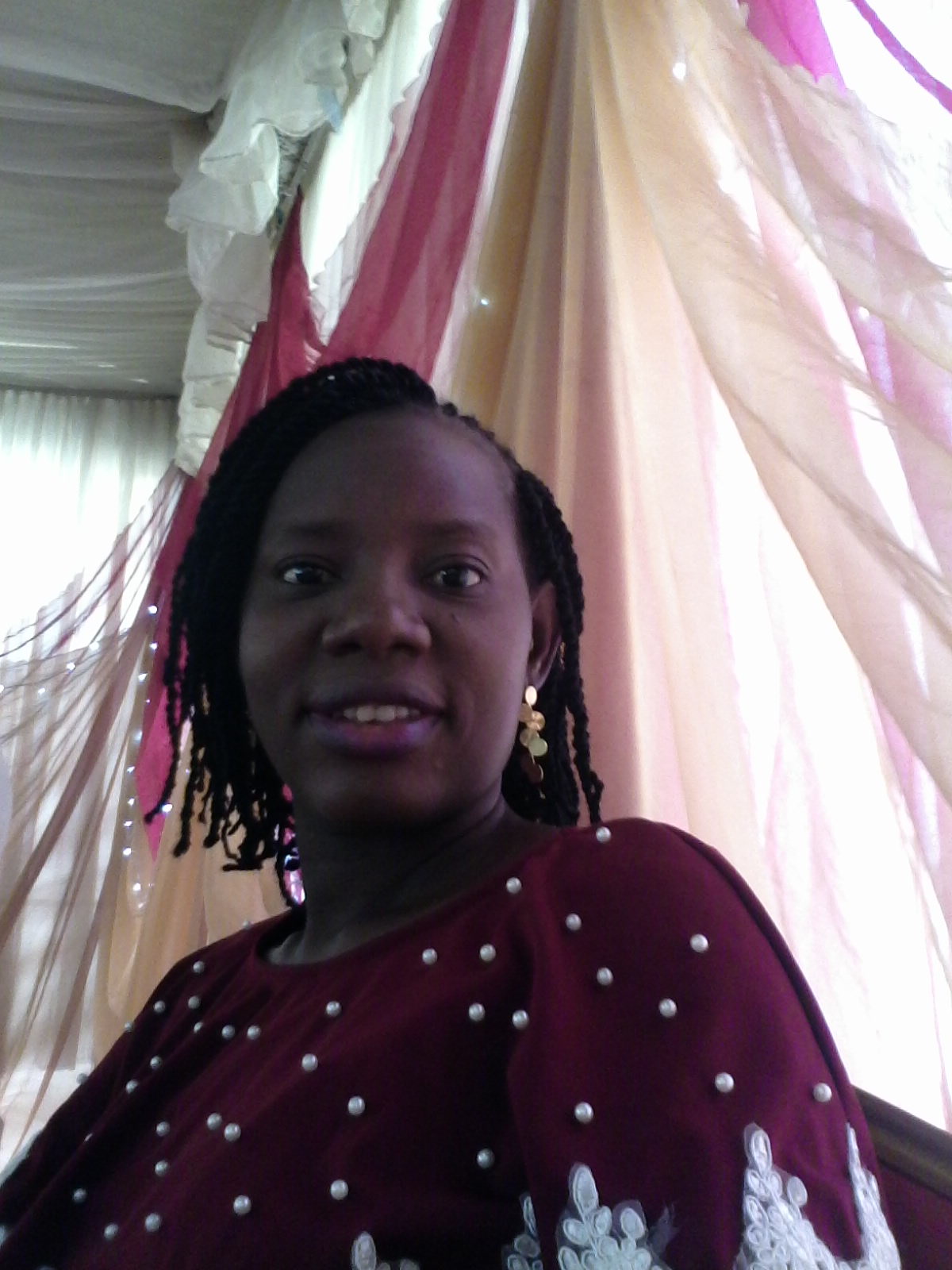 I joined Accion MfB on the 1st of Aug, 2007 as a customer service officer at Oke -Arin Branch Lagos. I was later re-deployed to commercial department where I worked hard and met set target. I have been promoted from loan officer to a commercial supervisor, acting branch manager and now branch manager. I would like to express my gratitude to the organization and all my colleagues for the opportunity given to me to work with them in the past 10 years , It has been a great amazing years .
Abimbola Onasanya, Branch Manager - Ikotun Branch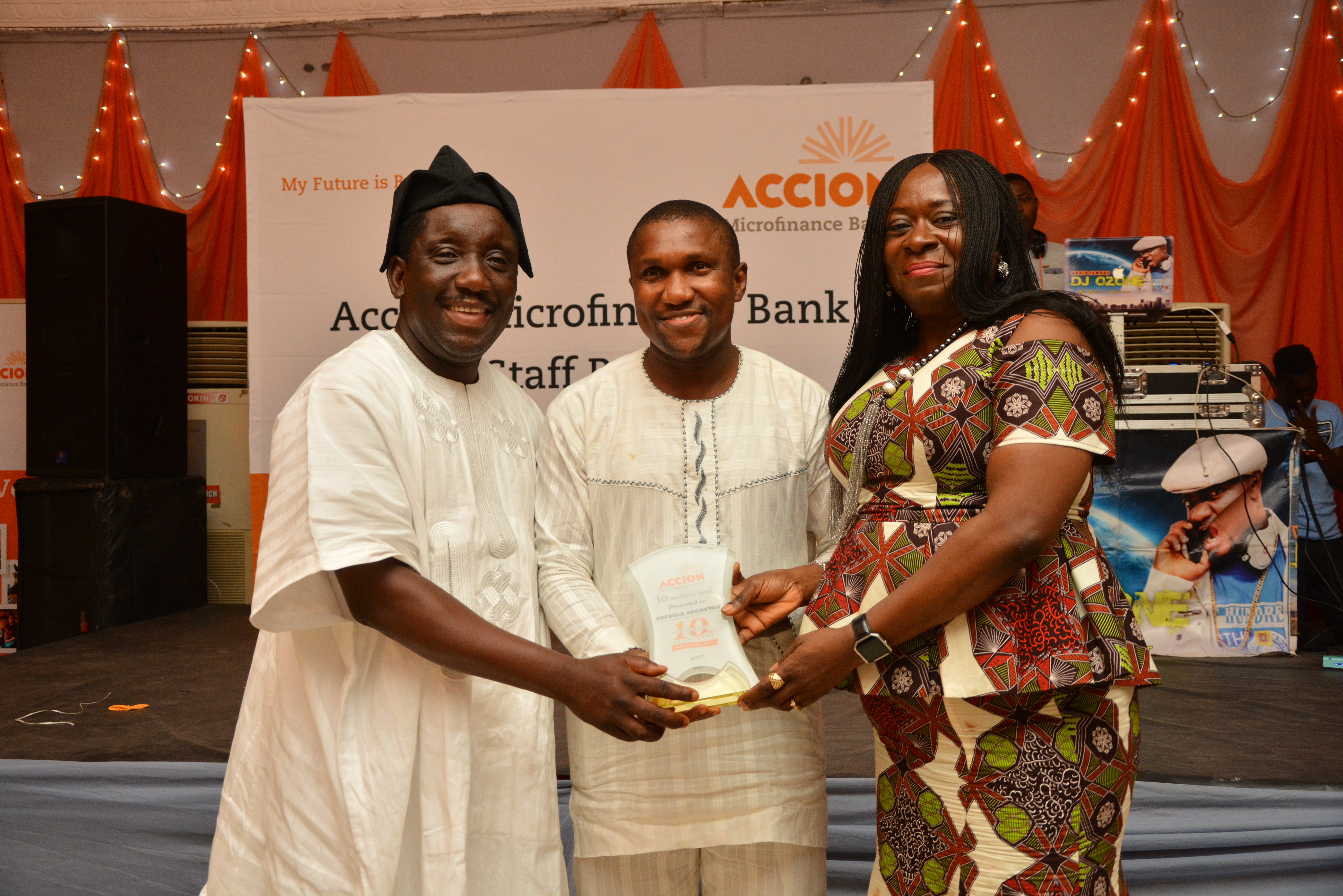 Firstly, I am thankful to God for making me part of the Accion MfB Family. I stated with no knowledge of finance but with my supportive colleagues, I have grown in knowledge and experience. I am now able to work with various applications. Aside the noticeable growth in my career, I have also been able to sponsor myself to complete my HND program and comfortably support my family Surely My Future Is Brighta with Accion MfB MFB.
Adebola Ademetan, Finance Officer - Finance Department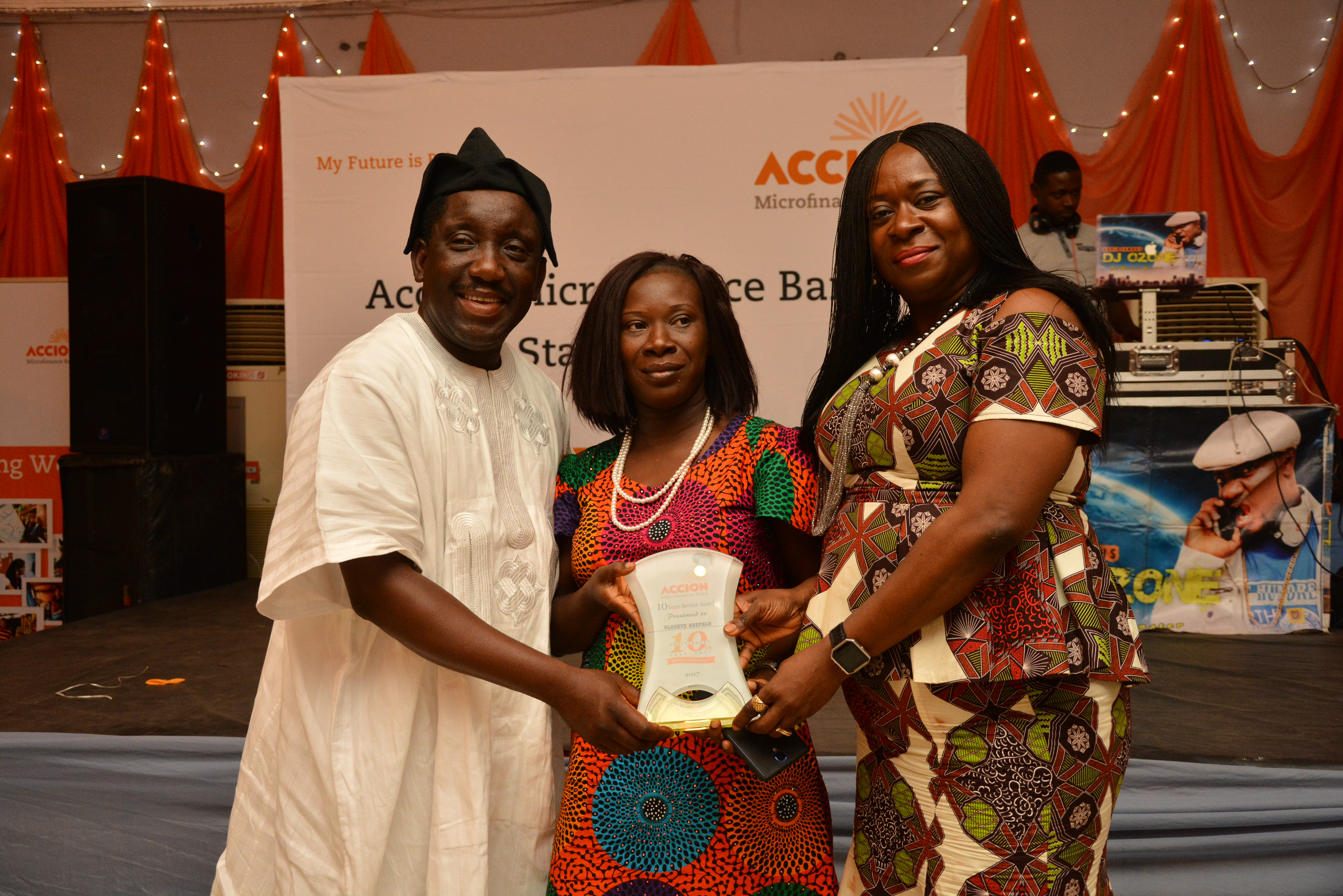 I joined Accion MfB on the 6th of August 2007 as a loan officer and I have grown to become a branch manager. During the on-board training program, in spite of all the challenges I had to deal with, HR was absolutely wonderful and supportive. I was scared thinking I would be sent back home but the HR personnel assured me everything would be fine. I could remember my first birthday in Accion MfB, a birthday card was sent to me from HR with the MD's signature. Accion MfB has rewarded me for my hardwork and supported me with family friendly policies. My journey of 10 with Accion MfB has been eventful and I look forward to a brighter future in Accion MfB. Indeed my future is bright.
Oluseye Adefalu, Branch Manager - Agege Branch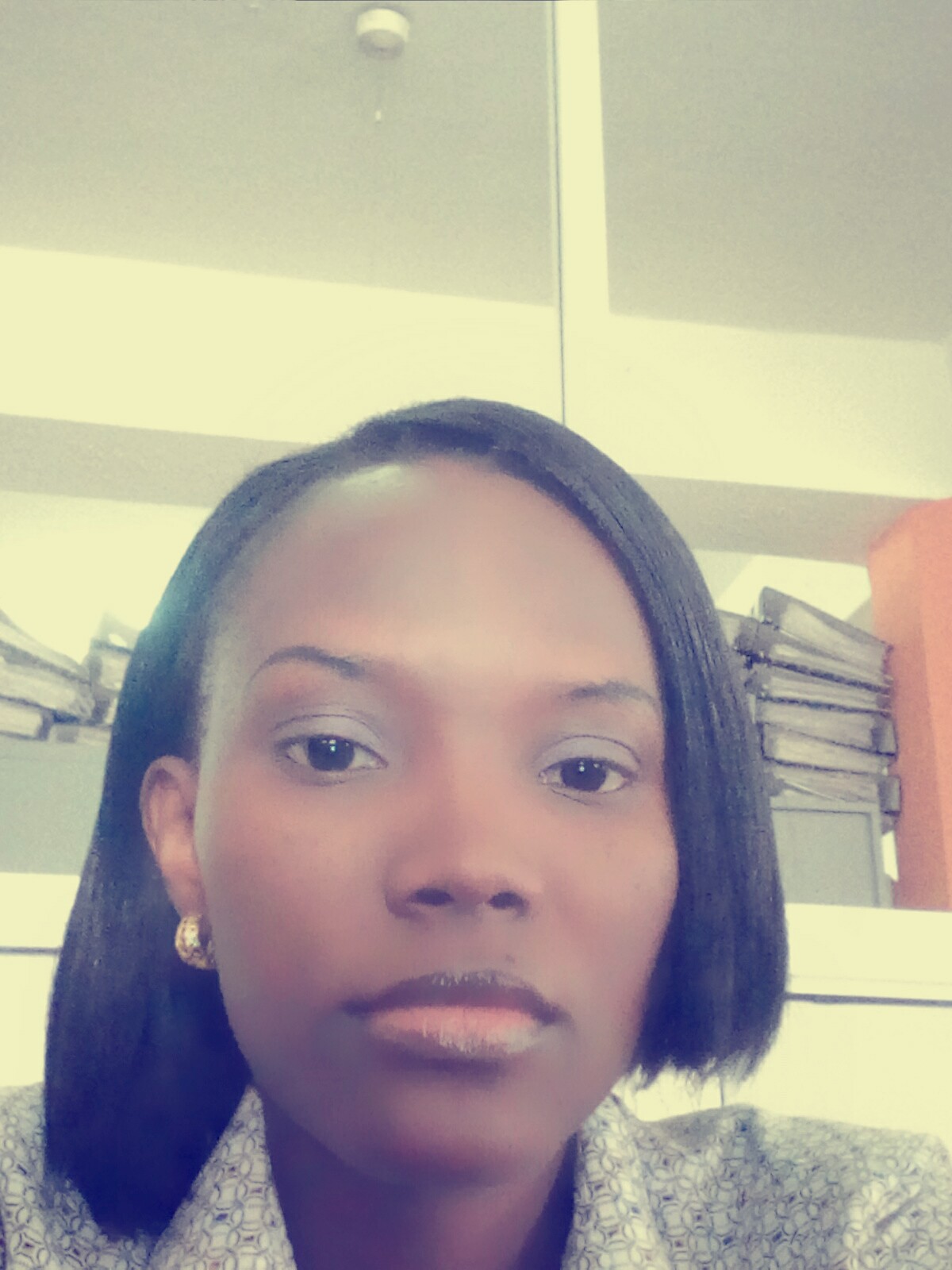 I am very excited to share my journey with AMFB because I am one of the pioneer staff of this organisation. I came in as a Graduate Trainee on 1st of February, 2007. I started my career with the organization as a customer service officer at our very first branch at Oke-Arin. My passion and hunger to learn new things has helped me work with the different departments and branches in the Operations division. I have worked as Head of Branch Ops where I had the privilege to train branch operations staff who are now functioning effectively as Head of Branch operations in their various branches. Accion MfB has supported me with trainings and workshops to sharpen my skill. Accion MfB has not only contributed to my career growth, but also to me personal growth. I met my spouse in the Bank. I am very focused and optimistic about growing in my career and rising to become manager in operations and hopefully become the Chief Operations Officer.
Funmilayo Odemorin, Operations Department (CPC DATA SUPERVISOR)